When Twitter first started, my first thought was, "Oh, friend, I could use you in class."
Since that time, I've come up with five ways to use Twitter to teach vocabulary.
Students create fake Tweets as if they were the word, creating a message that the word would write.
Students create a fake Tweet that includes the vocabulary word within the message.
Follow Twitter accounts that tweet about vocabulary.
Connect with other classrooms.
Create Twitter polls.
Let's look more carefully at each of these ideas.
? Idea #1: Create Fake Tweets to Teach Vocabulary
Let's start with this one because it's fun, it's easy, it lends itself to distance learning, and it's effective.
Plus, I'm sharing my template, and I'm really excited for you to see it.
I'll share three steps, and then we'll look at exactly how to do it and some tools you can use.
Students choose or are given a target word.
Students create a fake tweet as if it came from the target word.
Students share the fake tweet with peers.
Those are the basics. Let's look at exactly how to use it in your classroom.
Step 1: Have students select a word or assign a word to a student.
It's fine to have multiple students using the same word, and it can be interesting/funny to see what different students do with the same word.
You can use a specific group of words for this. For instance, if you're studying the rock cycle or Westward Expansion or area of three-dimensional shapes, you can have students use the academic vocabulary associated with those things.
You can also use general vocabulary words (what we call Tier II words). If you're thinking about this, read this article on how to decide which vocabulary words to teach.
Step 2: The student creates the fake tweet digitally or on paper.
Either way you do it, the free template I'm sharing will work. I'm also going to give you an online tool, so stay tuned.
I've created it in Google Slides™, so you can save it directly to your own Drive.
You can do several things with this.
Slides 1 & 2 are editable, designed to be used digitally. Simply share the one you want with students, and have them type in the Twitter handle and the tweet.
Slide 1: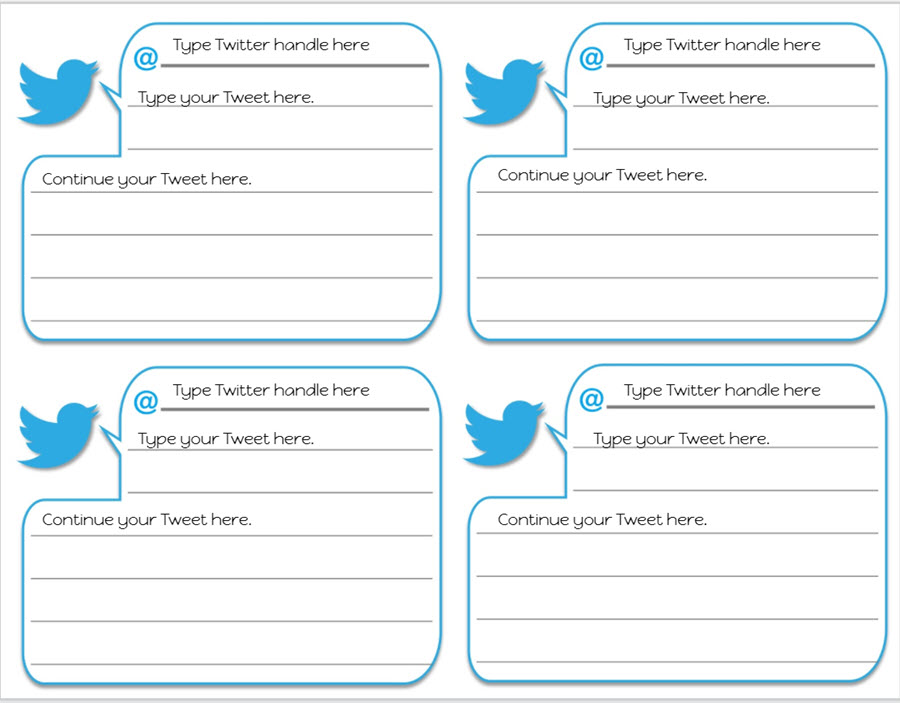 Slide 2: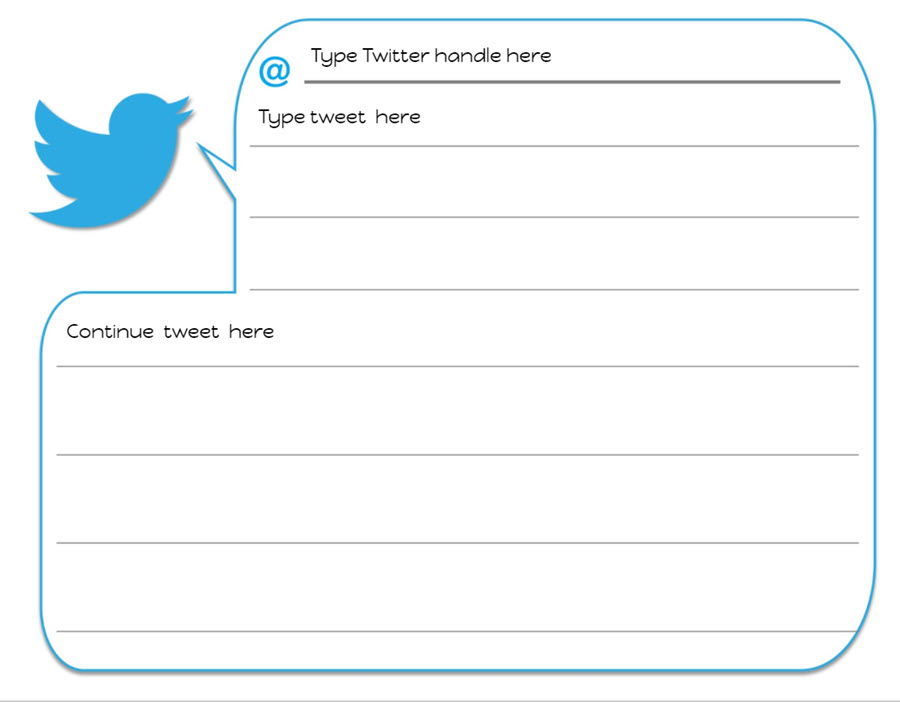 You may wish to copy the template and delete the slides you won't be using. Then, duplicate the slide you want students to use as many times as you need.
I suggest copying because you don't want to lose the rest of the template!
If you're using Slide 2 (one to the page), you can have students type their names in the speaker notes section below the slide so you can tell which student did the work.
If you're using Slide 1, you have a few options to identify a student's work. You can have students put their initials at the end of the tweet, you can have them type their names in the speaker notes, identifying which one is theirs by writing: "Upper Left: Maria Gonzales."
Slides 3 & 4 are designed to be printed out and written on. To make them reusable, you can laminate them and have students write with dry erase.
I've adjusted the size of the slide, so it's ready to be printed on 8.5" x 11" paper.
This is Slide 3: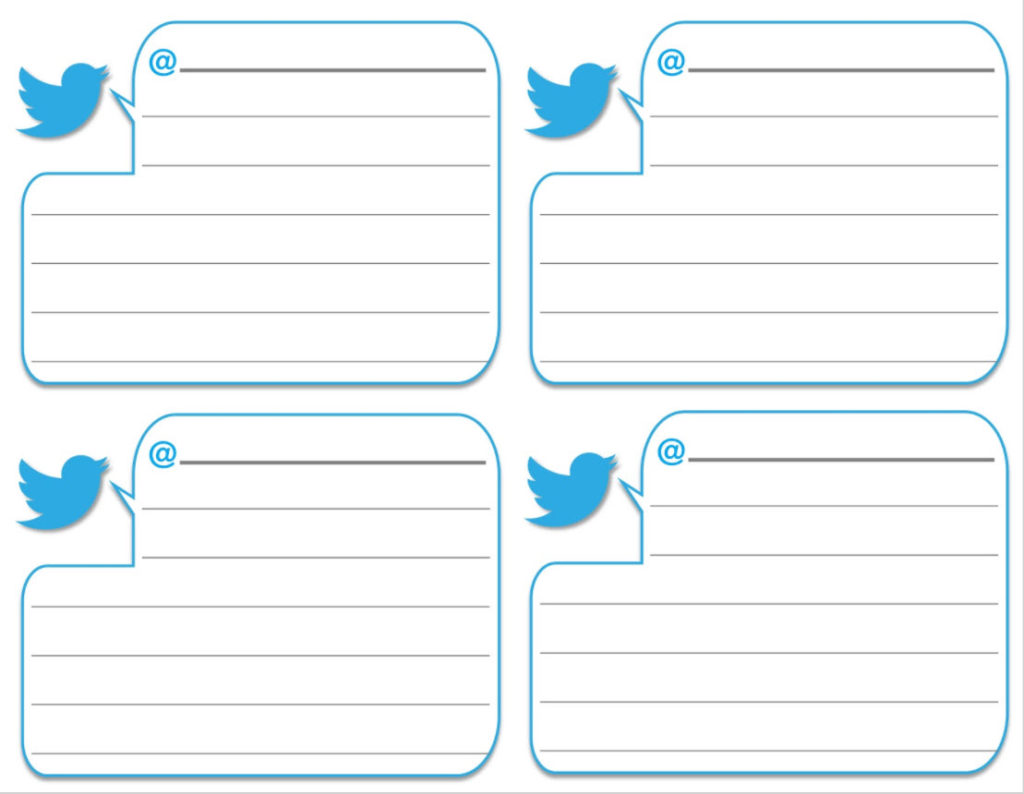 And this is Slide 4: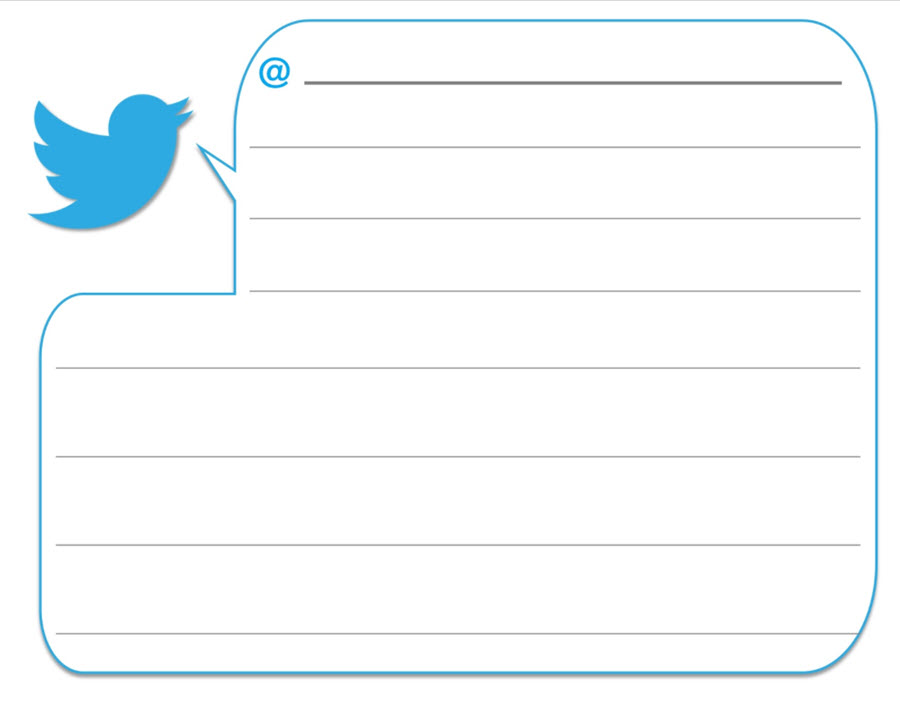 The real difference is whether the text boxes are there for students to type in or not. There are also some directions next to the slide that are different depending on if it's for digital or analog use.
(It will have you copy to your Google Drive.)
Step #2.5: Hashtags
I shared this article on Twitter and asked my fellow teachers what ideas I was missing. Michelle Yebra made this terrific suggestion:

I loved this idea! How did I forget hashtags? Her own hashtags shared two ideas:
Students could make a hashtag of the word in a sentence.
Students can use the hashtags to make the tweet more cool (and also make the word seem more cool!).
Michelle shared examples in a follow-up tweet:

Thanks to Michelle for this great idea!
You could also have students use hashtags to show classifications or sets that the word belongs to. Here are some examples:
If they're tweeting as the number 7, they may use the hashtags #integer #wholenumber #primenumber #iamlucky
If they're creating a tweet for the element Krypton, they may use the hashtags #36 #group18 #period4 #nonmetal #noblegas #imeanhidden #notdangeroustosuperman
If the vocabulary word they're working with is "persuade," the tweet's hashtags may include the word in a sentence, the etymology, and a non-example, such as #shewasunabletopersuademeiwaswrong #through+advise #notafabric
Step #3: Students share their tweets digitally or in a physical sharing space.
If you're using the digital version, this is simple, as students can all be working in the same slidedeck.
If you want them to create it digitally but present it in class, simply open the deck and View in Present mode. You can download it as a PowerPoint and share that way as well.
To share the printed versions, you can do a couple of things.
For the version that is four to a page, you can staple the left edges and have them be a flipping book.
For both versions, you can staple them up on a bulletin board.
If you've laminated them, you can attach adhesive magnet strip to the backs and display then on a magnetic white board or chalkboard.
If you have a Twitter account, be sure to share them on Twitter!
A variation on this activity is to have two students create a fake Twitter discussion between two words. That's set up for you on Slide 5.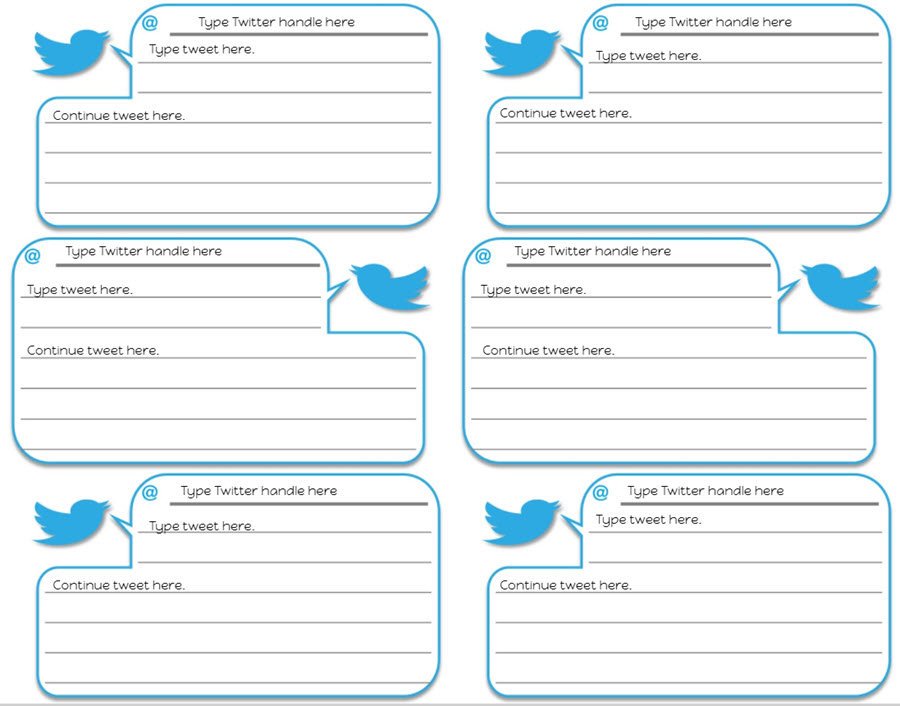 Digital Tools
In addition to the template you can use, there are a couple of online tools that allow students to create fake tweets. I'm going to recommend two because of ease of use, longevity, and aesthetic appeal.
Both allow students to upload images to serve as the profile picture, as well as the ability to make tweets that look very real.
The first one is PrankMeNot. The interface looks like this: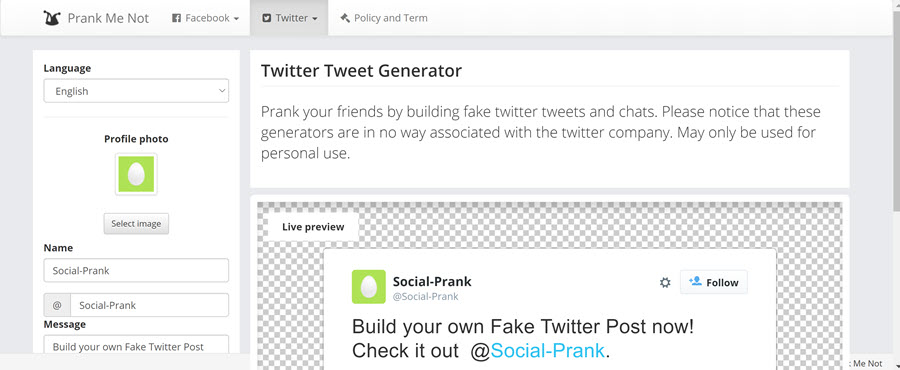 I created this tweet with it: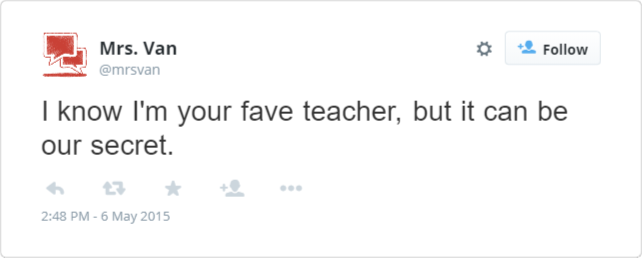 The second one is Simitator. The interface looks like this: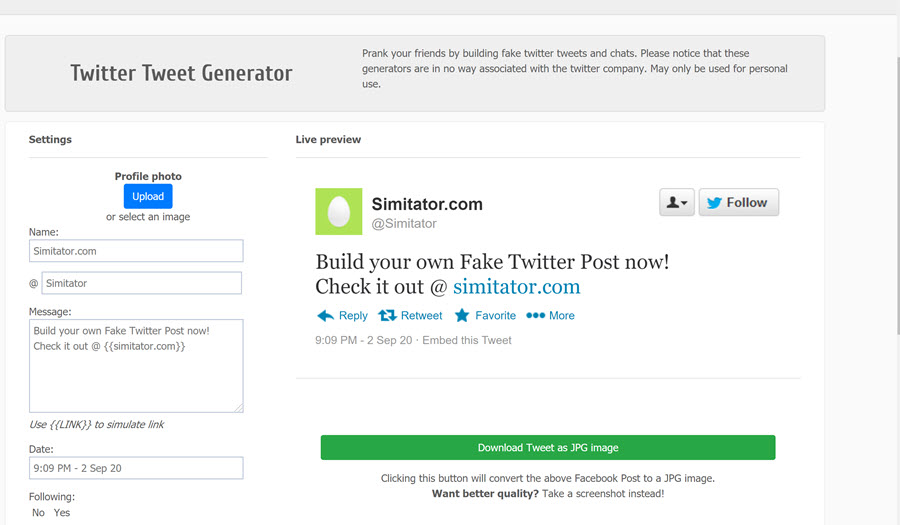 I created this tweet with it: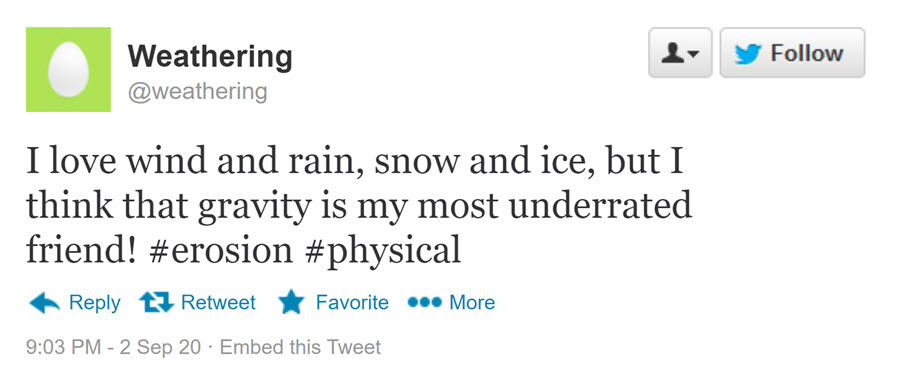 You may notice the egghead for the profile picture on this one. When I was working with it this time, Simitator wouldn't let me upload a picture. I tried about ten different ways, and nothing worked, sooo…
Both platforms allow you to choose Twitter Message or Twitter Tweet options. Choose "Tweet."
Both platforms allow you to download the image as a .jpeg. FakeMeNot's downloader is easier, and it allows you to share and embed, right from the page.
You can also simply take a screenshot. #oldschool
These are great for making realistic-looking tweets.
Here are some more examples (These were done on FakeMeNot.):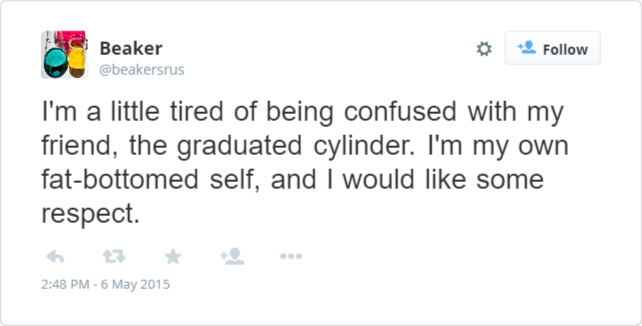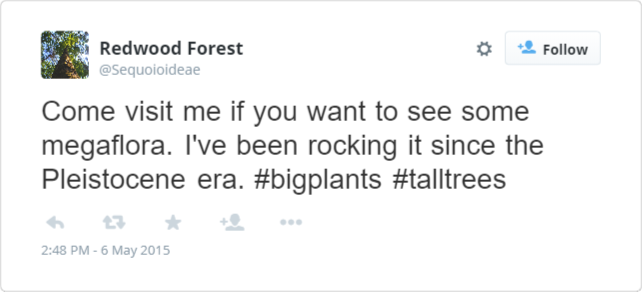 To share them, you can gather the images in a Google Slides deck or a PowerPoint. You can also have students insert the image into documents.
Although they're not difficult to use, they are more likely to be appropriate with slightly older students than the template, especially if you print the template.
One thing I like about this activity is that it works for a word-based activity for classes that don't normally have products like this.
Here's a PE example: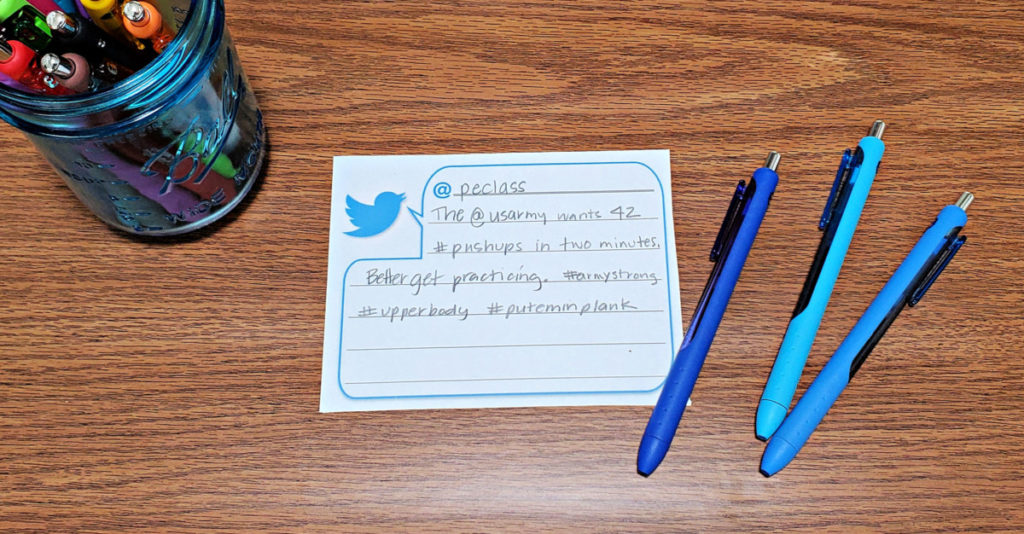 If you're going to start using Twitter to teach vocab, this is the idea I'd use first.
? Idea #2: Words in Context
The second idea is to have students create a "tweet" that a word would send out with the word in the tweet in context.
You can use any of the tools described in Idea #1 for creating them (the template or the websites).
The key is that the student must make it clear that they understand the word.
They do this by using the word appropriately in context and perhaps sending the fake tweet from an account related to the word in some way.
You can have students work with several words simultaneously with this method by having them use Slide 5 of the template or by inserting multiple images in a slide or document.
I'm a Google gal myself for school, but I use OneDrive for personal use, and if you use Microsoft, you can do the same things in documents or PowerPoints.
This activity is a fun way for students to get practice using the word in a way that doesn't feel like the same-old "use the word in a sentence" activity.
It also lends itself to distance learning, which is handy.
You can have them add hashtags for fun or for a purpose. For instance, they could use hashtags to put in synonyms of the word, as in this example.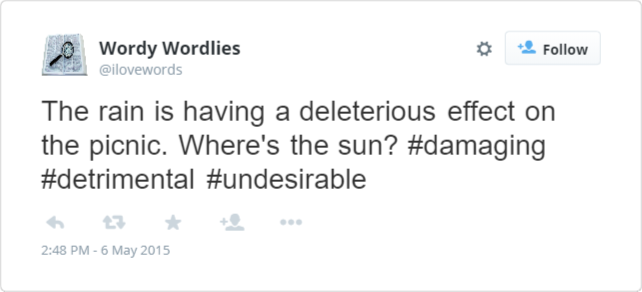 While I recommend starting with Idea #1, I recommend adding this activity quickly because it shows mastery of the words and expands the repertoire significantly.
You can combine the strategies, of course, having students create fake tweets with the words in context.
? Idea #3: Follow Word-friendly Twitter Accounts
If you have (or are willing to get) a Twitter account, you can follow other accounts that tweet about words.
Here are some suggestions: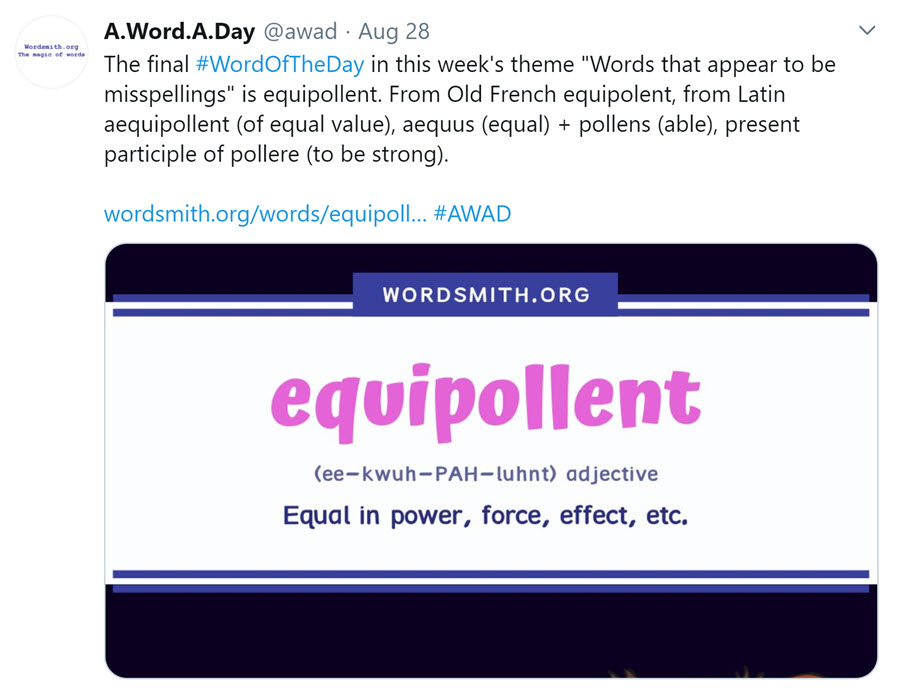 This is the account of Wordsmith.org, and it shares super cool words every single day. Some are really esoteric, but for getting kids interested in where words come from and the general coolness of language, it can't be beat.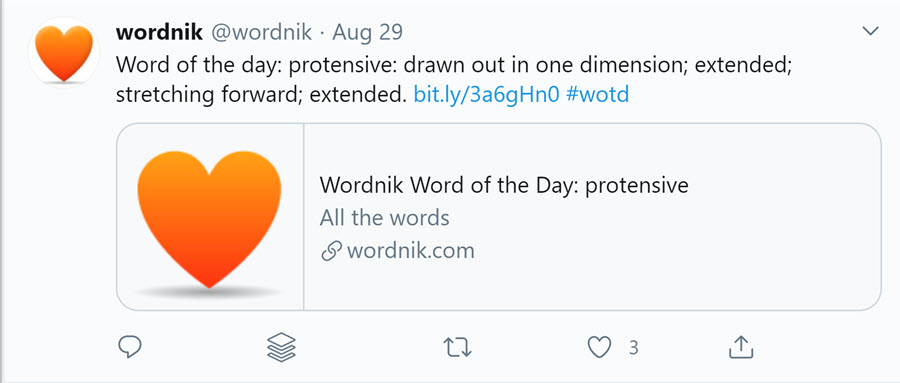 Wordnik shares a word of the day in a very simple format. All of the tweets look alike – there's truly nothing to see here, folks, but it's a great, simple account to check for cool words to share.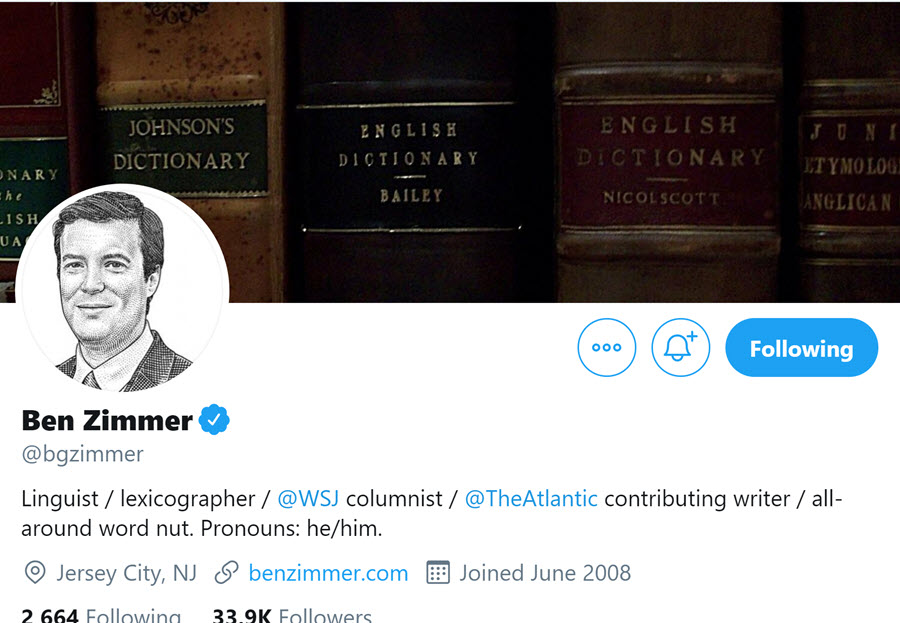 Zimmer is a linguist, lexicographer, and writer, and perhaps one of the most respected in his field. His Twitter account doesn't just give definitions, so may tweets may not be directly useful in class, but for anyone wanting to up their Twitter word game, he's essential.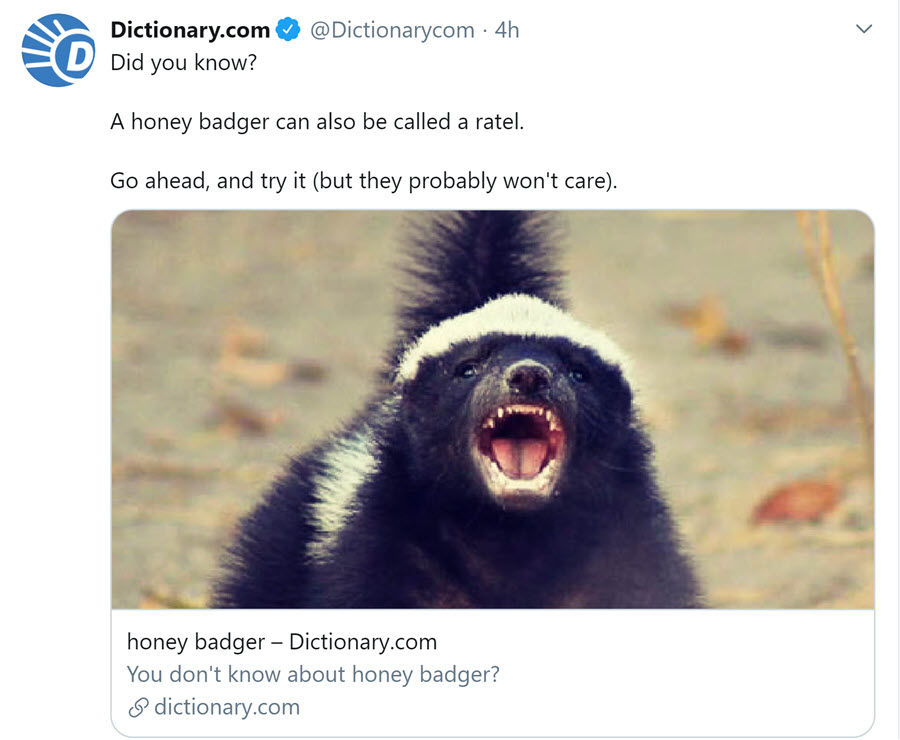 It seems unlikely that the dictionary would be a source of amusement, but this is one of my fave accounts to follow on Twitter. It's shockingly funny and on point.
Anyone who makes a honeybadger reference is okay in my book.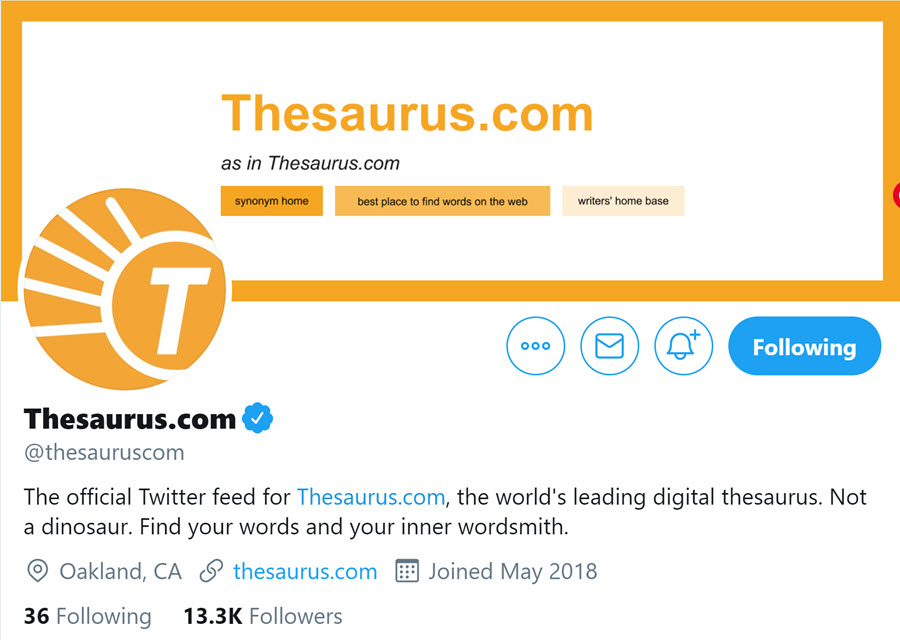 The same wry humor of Dictionary.com is evident in its sister account, Thesaurus.com. You can see it in the bio itself, where it says, "Not a dinosaur."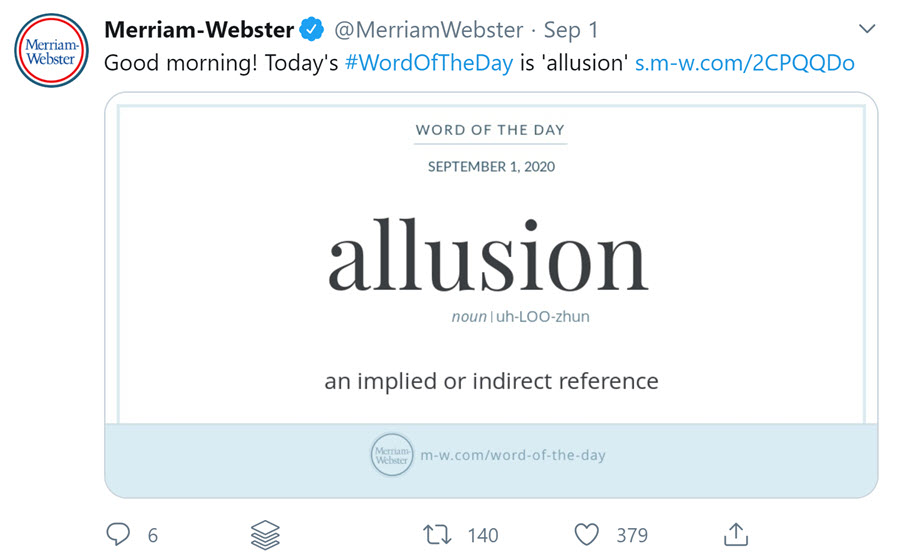 This dictionary's Twitter account also sends a word of the day, and I like the layout of it. They tweet other interesting wordiness as well, so this is one I recommend highly.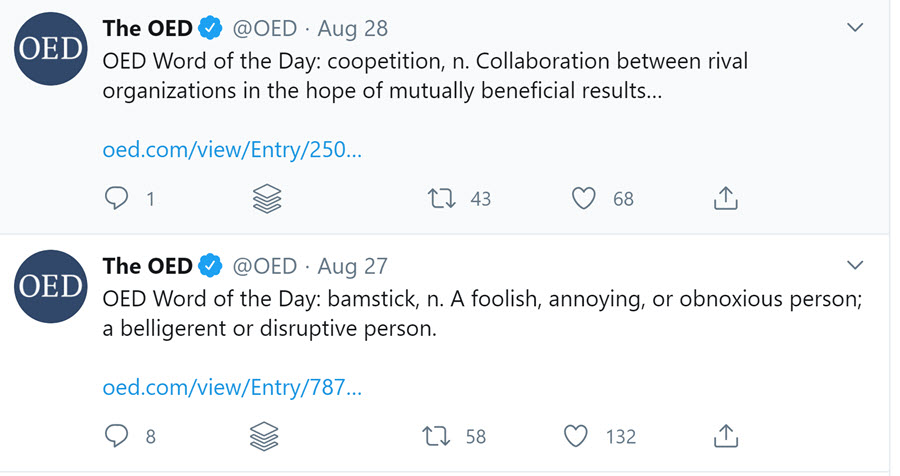 The Oxford English Dictionary, affectionately known as the OED tweets out a low-key word of the day. While other accounts often add other things, this is almost exclusively a cool word every day. If you're looking for a clean, erudite account (See what I did there?), this is a great one.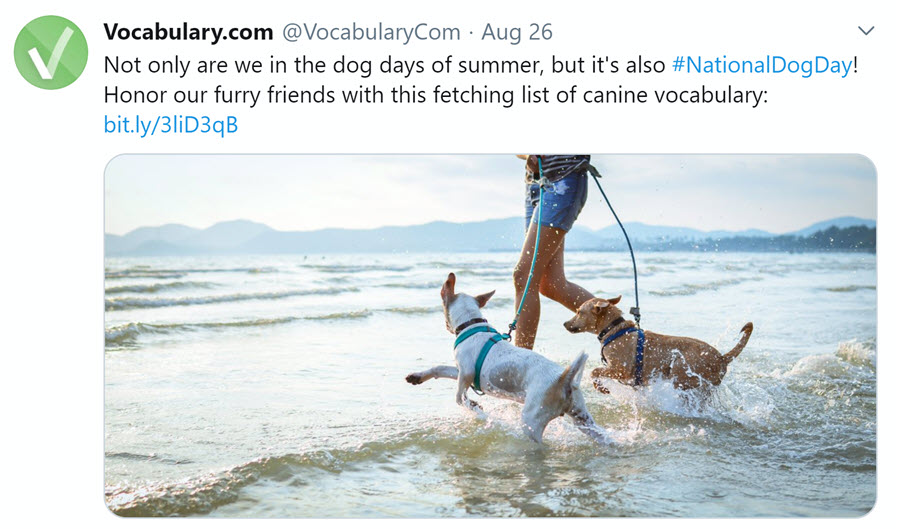 Home of the Vocabulary Bowl, I like a few things about this account. It's timely, curating lists of words related to holidays and current events, like this one for National Dog Day:
Because they do the Vocabulary Bowl, they're tuned in to teachers and students, so you'll get applicable tweets related to education.
I also like that they have a lot of images, which makes their tweets fun to share with students.
What to Do with Twitter Accounts You Follow
In addition to giving you ideas for cool words to share with students, here are some ways to use these wordilicious Twitterers.
Differentiation:
One common issue with gifted learners is that they've often mastered the spelling and vocabulary words offered at their grade level.
Use can use these Twitter accounts to discover words to substitute for high-ability learners.
You can also have the students themselves scroll through, looking for words they want to use to create their own lists.
Word of the Day:
If you share (or would like to share) a word of the day, it helps to follows lots of accounts. It's rare that a single account would have a word you would want to use every day.
Trivia:
I like to add trivia to my quizzes and tests and for icebreakers at the start of class. I get a lot of those from these accounts. They add an element of fun.
I can just snag a screenshot and throw them in.
Share:
If students use the accounts in class, tweet it out yourself and tag the account. It's surprising how many respond, and how excited kids get when they see their work shared.
? Idea #4: Connect with other classrooms
Use hashtags connected to your content area or grade level (for example, #edchat, #mathchat, #sschat, #gtchat, etc.) to find teachers who'd like to connect with another classroom.
Through Twitter, you can share resources, things you've made and are studying, and challenge them to word battles, using target words in tweets.
There is a world of possibility here, and I encourage you to try it.
Start small, reaching out to a single teacher and asking if you could exchange simple tweets once a week that share the coolest thing the class learned that week.
You can slowly develop this into bigger and bigger exchanges that can even be live interactions.
Consider creating a hashtag for your connection. For example, if I were connecting with my friend Andrew McBurney's class, we could use the hashtag #vanburn, a combination of our last names (mine's Van Gemert).
? Idea #5: Create Twitter polls to ask people the meaning of target words.
Twitter has a polling feature that is a fun way to engage with others.
You can create one with the simple click of a button when you create a tweet.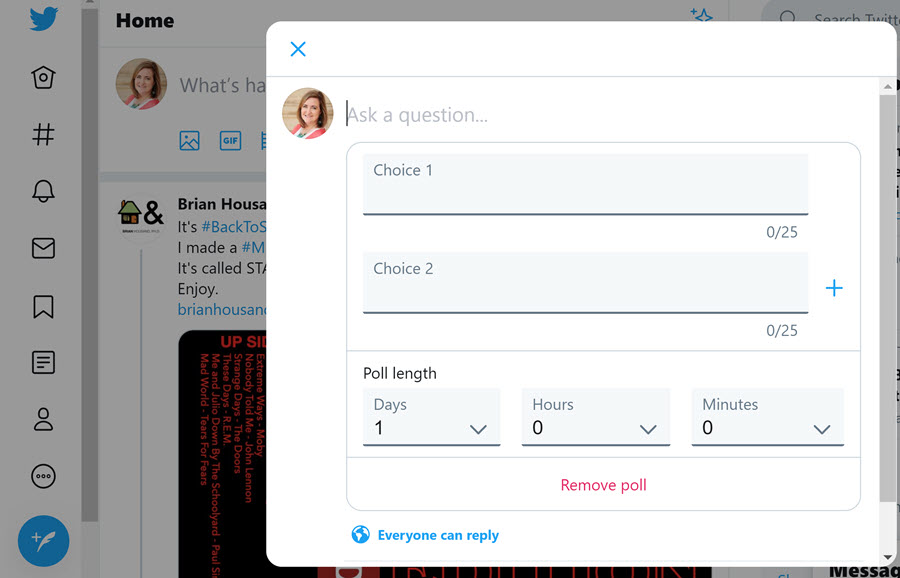 Students can come up with questions and words to use as choices from which people can choose.
Here's an example: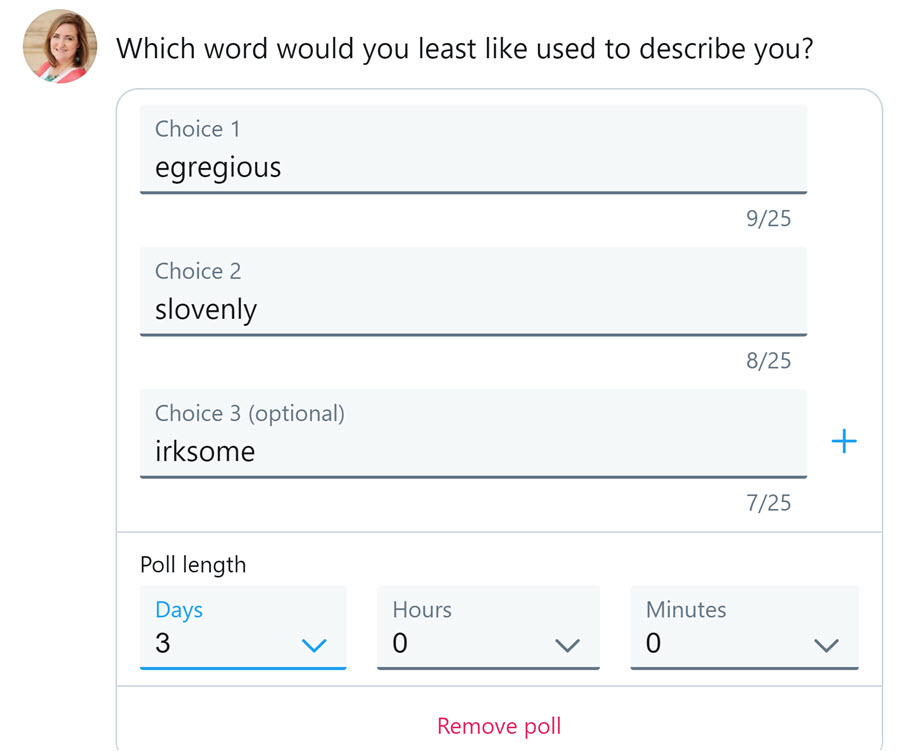 When you create a poll, it automatically offers two choices, but you can click the + sign and add more.
You can also choose how long you want to the poll to run.
If you teach secondary and students have Twitter accounts, you can run polls right in class for students to participate in.
You can also have students come up with possible definitions for words and let people vote on the one they think it should be. Here's an example of that: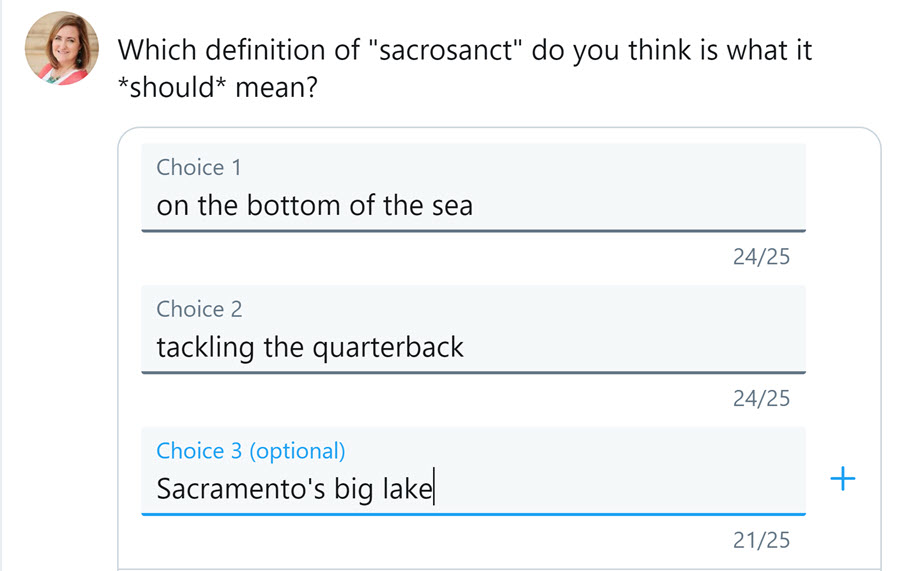 Poll choices can only have 25 characters, so you have to be creative, which is part of the fun!
? Wrapping Up:
Twitter offers teachers some fantastic ways to integrate social media into the classroom in a meaningful way.
Whether you're using "real" Twitter or simply having students create fake tweets and exchanges, the format lends itself to quality work with words.
Start small, and if it doesn't work the first time, try again. One of the benefits of teachers' trying these kinds of activities is that students get to see teachers taking risks.
There are loads of opportunities for playing with vocabulary on Twitter.
If you want to follow me on Twitter, I'd love to connect with you!
I love all these that I've shared, and I'm sure there are more. I hope you'll try some!
? You May Also Like:
If you like this idea, I've got some others that you may like as well! Check out: